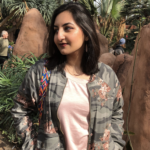 Hey WILS! My name is Zainab Manzoor, but you all can also call me Zain. I am the proud President of the Alumni Association Board, hailing from Grafton High School (throw up the hawk) and I first attended seminar in 2015! WILS has done so much for me- it's really helped shape my confidence, personality, and my abilities in leadership. I am so excited to continue to contribute and show all of you the amazing organization that WILS is! I've previously been the VP with past-President Taylor Bould (miss you) and the Secretary with one of my beautiful advisors, Maggie Erdman! I currently attend the University of Wisconsin-Madison and I am majoring in International Studies, Global Health, and Pre-Med! My goal in life is to go into Infectious Diseases and to one day be part of Doctors Without Borders.  Fun Fact: my little sister (scroll down to see the lil cutie) is also the first year liaison! My favorite things in life include: my kitten Jasper, mangoes, sushi, kpop, kdramas, volunteering, watching vine compilations, art, drawing, and taking long, long naps. If I was any Ben and Jerry's ice cream flavor, I would be Phish Food.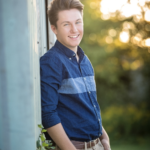 HELLLOOOOO WILS!!! My name is Nathan Plym (or Nate, whatever floats your boat).  I'm a 16er from Peshtigo, WI, and I am your current Alumni Association Vice President! I'm studying at the University of Wisconsin – Stevens Point working towards a Communication major, Public Relations emphasis, and Psychology Minor. Like many of you, in high school I was involved in many leadership/volunteer groups, but I am most proud of doing projects for the Moose Lodge Youth Awareness National Program for three years. I was also greatly involved in the arts, mainly Northern Fire Show Choir, for which I performed and choreographed. Some other passions of mine include volleyball (I'm on the club team at UWSP!!), photography, playing guitar, and making/hanging with friends. WILS holds a special place in my life because of the family atmosphere I've been immersed into, the beautifully authentic people I've met, and for the sense of belonging and validation that comes from this organization. Finally, if I had to be a Ben and Jerry's ice cream flavor, I'd be Caramel Chocolate Cheesecake.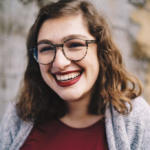 What's good?! My name is Bella Buscemi and I am the Secretary of the Alumni Association Board. I am from Lake Mills High School and I attended seminar in 2016. I am currently going to school at the University of Minnesota – Twin Cities. I am not exactly sure what I'm majoring in but I'm thinking about majoring in Mathematics with an emphasis on Actuarial Science. I also am getting a minor in Spanish Studies. I am the type of person that breaks out into song and dance more often than not, especially when songs from musicals are playing. I am a member of Enchantments A Cappella at UMN. It's the only all femme identifying a cappella group at the U. I love being involved and helping people. WILS has given me so much and I am filled with joy and gratitude to be a part of this amazing board! If I were a Ben and Jerry's Ice Cream flavor I would be The Tonight Dough.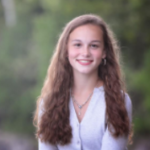 Hey pals! My name is Sara Pabich and I am the Treasurer of the Alumni Association Board this year. I attended WILS Seminar in 2016. One of the reasons I ran for a position on the Alumni Association Board was because of all the supportive individuals that have become my long term friends through WILS. Currently, I am a Freshman at University Wisconsin Madison. When I attended a Pre-College Program, I learned more about Medical Careers specifically in Global Health. Therefore, I plan to major in either Psychology or Sociology with a certificate (or minor) in Global Health. After gaining a Bachelors degree I hope to go on to graduate school, to get a Masters in Public Health (but that's still aways in advance so it might change– you never know). In my free time, I enjoy hanging out with family and friends, listening to music, making crafts, watching plays or movies, and reading. When I am not at college, I live in Door County. Therefore in the summertime, I take advantage of nice State Parks by going swimming, hiking or biking on the trails. If I were a flavor of Ben & Jerrys Ice Cream, I would be cookie dough. This was a difficult question for me to answer because I absolutely LOVE ice cream. (I go to Babcock at least twice– more like 3 or 4 times–a week, to get my fill of ice cream.) Nonetheless, I settled on cookie dough because it satisfies both the sweet craving you have, while still having a nice basic creamy vanilla that refreshing. Since I strive to be kind but still helpful and productive I believe I am similar to cookie dough ice cream.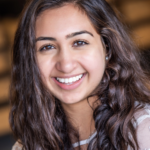 Hellooooo! My name is Aleezah Manzoor and I am honored to be this year's First Year Liaison on the Alumni Association Board! I am a junior at Grafton High School and attended Seminar in 2018! Becoming a part of the WILS family has changed my life for the better, and I hold it very near and dear to my heart 🙂 I have been the Class President of my class since freshman year, I am Student Council Treasurer, and  have been the student representative/speaker on many committees. I take part in many other extracurriculars as well, such as every show my school offers. I am a performing arts kid with a goal to one day pursue a career in law! I love to debate and learn, and I also love to watch Gilmore Girls, Friends and The Office on Netflix and I also really, really love fries. Also scroll up to see my wonderful sister as President of the board! On a serious note, if I were a Ben and Jerry's ice cream flavor I would be the classic chocolate fudge brownie.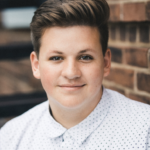 Hi friends! My name is Ben Villnow and I currently serve as the Co-Member at Large alongside one of my best friends! I am from Amherst, Wisconsin and attend Amherst High. With college approaching fast, I have decided to pursue a career in music education! I do not know where I will be going to college yet, as the music processes takes a bit longer than other paths. High school has been a wild ride so far. In this short span of 4 years, I have accomplished things I never thought a high schooler could do. I was presented with the opportunity to travel around Europe with some of the most talented student musicians in Wisconsin and play a 2 week concert tour! I also created a club! Amherst High had an absence of a Gay Straight Alliance. A couple of my peers and I worked very hard to establish this club. I currently serve as the Vice President and the club is thriving! I remain involved in WILS for a couple reasons. I strongly believe in everything the organization stands for. From inclusiveness to teaching students valuable leadership skills, it encompasses things I am very passionate about. I also have met the most amazing people through this organization. Giving my dedication back to WILS is the least I can do for what it has provided for me. A couple fun facts about me; I have a passion for photography, I am a trained barista and I ALWAYS forget something when I go somewhere. If I was a Ben & Jerry's ice cream flavor, I would probably be Coffee, Coffee BuzzBuzzBuzz.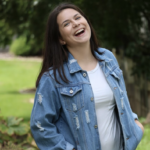 Hi! My name is Roisin Doyle, or Ro like row row your boat! I am this years Co-Member at Large with the only and only Ben Villnow. Fun fact he was the first WILSer I hung out with outside of a WILS event!! I am a 17er from Port Washington. I'm unsure in what I would like to major in but leaning towards science or business. I'm also thinking about take a gap year before college to travel! As my last year of High School is coming to an end i'm super excited that I have maintained good grades and challenged myself with AP classes. I also am proud to say I only missed one high school football game during all 4 years; Friday night lights were my favorite part of high school! WILS is special to me because it is a constant source of happiness and comfort for me. The people I have met and continue to meet through WILS are amazing human beings and challenge me to become a better person, and I have made amazing friendships through WILS! I love spending time with my WILSers, seeing movies(if anyone ever wants to talk movies i'm your gal), reading, listening to music, and watching David Dobriks vlogs. If I was a Ben & Jerry's ice cream flavor I would be Pecan Resist.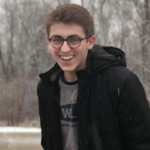 Welcome back to my channel, hi, how are ya? My Name is Ian Bould and I am thrilled to be serving as the Alumni Association Public Relations Director for the second year in a row. I'm from Grafton, Wisconsin and I attended my WILS Seminar in 2016. I am currently residing in Madison, Wisconsin because I am attending the University of Wisconsin – Madison. I am pursuing degrees in Marketing, Management Human Resources, and a certificate in LGBTQ+ studies. WILS is special to me because of the people in it, they're amazing. My favorite activity, when I have the money, is attending musicals; Les Misérables is my favorite musical. When I'm not watching musicals, I'm watching YouTube videos, specifically, Jeffrey Star, Jenna Marbles, and Shane Dawson. If I were a Ben & Jerry's ice cream, I would be Cedar Crest blue moon ice cream because Cedar Crest ice cream better.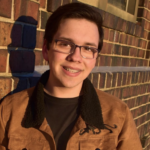 Hey everyone!! My name is Luke Tschumperlin and I am serving as the Media Coordinator this year for the Alumni Association Board! I attended seminar in 2018 and I am from Beaver Dam, WI. I go to Central Wisconsin Christian High School in Waupun, WI. When I attended seminar, I made incredible relationships with people and I was able to discover a new type of confidence I did not know even existed! In high school, I have been a part of student council, art club, drama, improv, forensics, yearbook, band, neighbors club, academic bowl, and various other small activities. In the very little free time I have after all those extracurriculars, I spend it doing photography, drawing, watching lots of animated movies, playing ukulele, telling cheesy jokes, collecting vinyl records, planning Disney trips, hanging with friends, and listening to music such as Owl City and various film scores. Fun fact that my favorite film score is the How To Train Your Dragon score. One of my other favorite things I love to do is attend WILS reunions and events to meet up with other awesome WILSers! I know for sure I want to work for the Disney company in my future whether that be marketing, hospitality, film, or animation. As of right now, I am not decided on something but I am very excited to pursue my future career! If I were to be a Ben and Jerry's ice cream flavor, I would be cookies and cream because cookies and cream is like living the dream.