"Ever since the first day I set foot in the ballroom (at WILS), I knew I had found my place and my best friends. The WILS family has helped me through all of my down points in recent years, and they're re always there laughing with me during the high points. I couldn't dream of better friends, or better relationships. And even though we're in college now, we still make it a point to Skype every week!"
-Sarah S., WILS 2008
The WILS Alumni Association promotes and supports the goals and purposes of Wisconsin Leadership Seminars, which include providing continuing educational and leadership opportunities for WILS alumni. The Alumni Association provides ongoing development and networking opportunities with other student and civic leaders. Being an active member of the Alumni Association is the best way for student leaders to stay in touch with friends from the seminar and to meet other WILSers from past seminars.
The Alumni sponsors several OUTSTANDING events during the year at various sites across the state, including: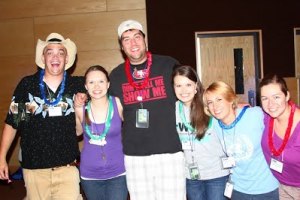 Alumni Reunions – The Alumni hold two or three weekend reunions annually at various locations in Wisconsin. Each reunion features a community service event, a speaker, a tour of a local business, various recreational events, and tons of fun!
Seminar Planning/Staff – WILS alumni are critical to the success of the WILS Seminar. Many alumni serve on the Seminar Planning Committee and Board of Directors.
Over 80 alumni return each year to volunteer on staff at our annual seminar!
Service and Fundraising Events – Throughout the year our alumni volunteer at events throughout the state to fundraise for WILS or support other organizations. Events include visits to nursing homes, volunteering with other nonprofit organizations, gardening/land beautification, car washes, corn roasts, brat fries, concession stands.
Below is where you can sign up for the WILSAA e-mail list if you are a member but aren't receiving our e-mails!
Stay in Touch!
Are you a WILS alumnus but you're not receiving our e-mails?
If you want to sign up for the WILSAA group email click here and we'll approve your subscription.
Other possible issues:
Check your junk mail folder for any e-mails with [WILSAA] in the subject.
Did you officially join the Alumni Association? If you haven't and would like to do so, please fill out the form on this page and submit it to the WILS P.O. Box (WILS, P.O. Box 237, Milwaukee, WI 53201-0237) along with your $10 one-time dues payment (Checks payable to WILSAA).
 Upcoming Alumni Events:
Please see our Alumni Information Page for a full list of events and information.
–WILS Wellness Event is January 28th in Milwaukee! All funds raised go directly towards sponsorships for the 2018 Seminar! Check out our Facebook event for more information!
-2018 Seminar will be June 8-10 and will be once again held at UW-Whitewater. Staff applications will be coming out later in January!